There are lots of telescopes marketed towards children, and while a few of these are good, the sad truth is many of them are absolute garbage. So often, parents will excitedly watch their kid open their brand new telescope on their birthday or christmas, but watch as it becomes disused in the basement. How can we tell apart the hobby-killers from the genuinely good telescopes? The best way to avoid disappointment is to do plenty of research beforehand, and never trust Amazon reviews. For selecting the best telescope for a child in particular, there are some extra important steps to follow.
Steps to Follow While Getting That First Telescope For Your Kid
Middle school and high school age kids have similar needs in beginner telescopes to layperson adults, simply adjusting for the maximum weight of the telescope. Any of the telescopes discussed here can make for a decent beginner instrument for anyone, price dependent, but especially so for children.
The Verdict:
The best type of telescope for children which fits all of these criteria are tabletop Dobsonian reflectors.
A Dobsonian telescope is a Newtonian reflector, using a curved primary mirror and a flat angled secondary mirror, placed on a cheap, sturdy wooden rockerbox and lazy susan. It was pioneered in the 70s by amateur telescope maker John Dobson as a way to cheaply scratch-make very large, user-friendly telescopes. Tabletop Dobsonians are shorter, usually smaller, and, instead of using a rockerbox they use an altitude arm with an adjustable bearing. 
Tabletop Dobsonians are very portable, and they offer by far the best bang for your buck. They're also portable enough that, when it comes time to upgrade, they'll still serve a niche as a portable travel telescope.
Best Kid's Telescope Recommendations
I have made suggestions across a range of budgets so you can begin to narrow down which one(s) might be appropriate for your family and your budget. There are certainly more expensive systems, but those would be great starter scopes for your family that could eventually be taken over by your child.
Under 10 Years Old
For those under 10, the below recommended best telescopes for kids are all light enough and compact enough that a 7 to 10-year-old should be able to handle it, physically, on their own, when they are ready. 
1. Cometron FirstScope or Orion FunScope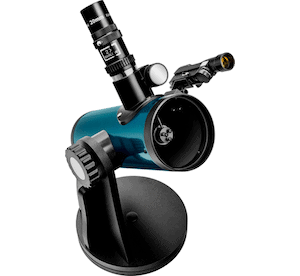 FirstScopes are only useful as a way to gauge the interest and capability of using a telescope for a small child. Because of its spherical mirror, it can not do planetary viewing, and it struggles on the Moon. It's fine for scanning the stars and the bright deep sky objects, and despite its shortcomings, children pick it up very easily and I myself have had a lot of fun with it.
The default version, Celestron FirstScope, has awful eyepieces, and the spherical mirror can't focus light properly at high powers, but it's not so bad for scanning the sky. The Cometron version of FirstScope has better eyepieces and is a better deal overall despite being slightly more expensive. Orion's FunScope, the most expensive among the three FirstScope offerings, uses the same mirrors but includes the best accessories. 
Best For Kids Around $100
2. Orion SkyScanner or Zhumell Z100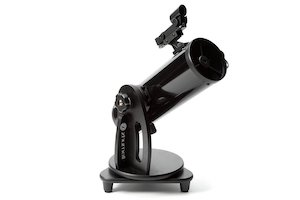 | | |
| --- | --- |
| Usability rating | 4.4/5 |
| Visibility rating | 3.5/5 |
| Portability rating | 5/5 |
| Company rating | 3.5/5 |
| Weight | 6.2 lbs |
| Aperture | 3.93″ (100mm) |
The Orion SkyScanner 100 or Zhumell Z100 provide a much better telescope than the FirstScope at a decent price. They are very much like the FirstScope, but with a larger mirror which is figured to a true parabola rather than a sphere, so spherical aberration is minimized. They also include decent eyepieces. The Z100 has a slightly better focuser position than the SkyScanner, but their optics and accessories are identical. Of the two, either will work fine, but the Z100 is slightly better. If you find them for the same price, pick the Z100.
Best For Children For Around $150
3. Zhumell Z114 or Orion Starblast 4.5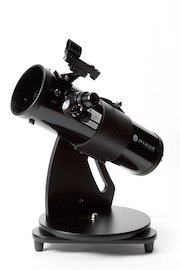 | | |
| --- | --- |
| Usability rating | 4.4/5 |
| Visibility rating | 3.5/5 |
| Portability rating | 5/5 |
| Company rating | 3.5/5 |
| Weight | 6.2 lbs |
| Aperture | 3.93″ (100mm) |
The Zhumell Z114 (also the practically identical Orion StarBlast 4.5 Astro) reflector is the instrument of choice for the vast majority of library loaner telescopes. It provides high light-gathering power, ease of use, and more precise optics than the Orion SkyScanner/Zhumell Z100. It's a little smaller than our $200 recommendation, Heritage 130P, but it will hold collimation better so it won't need to be adjusted unless it's been bumped or banged. It will need aftermarket accessories to reach full magnification to see detail on planets, though. The Z114 is often sold for considerably less than the StarBlast 4.5 Astro, but you can often find the StarBlast 4.5 Astro discounted. Go for the cheapest of the two. Note that I do not recommend the EQ-mounted version of the StarBlast 4.5 for children.
Best Choice for Kids For $200
4. SkyWatcher Heritage 130P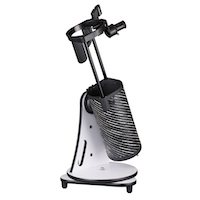 | | |
| --- | --- |
| Usability rating | 4.4/5 |
| Visibility rating | 3.5/5 |
| Portability rating | 5/5 |
| Company rating | 3.5/5 |
| Weight | 6.2 lbs |
| Aperture | 3.93″ (100mm) |
The SkyWatcher Heritage 130P, also sold as the AWB OneSky 130, is probably the best bang for your buck of any cheap telescope you can buy. It is a tabletop dobsonian with a 5 inch aperture, decent eyepieces, and it is very close to a serious observing instrument. It struggles to get very high magnification views of the planets and the Moon, but it excels at deep sky objects. An expensive high power eyepiece or a decent quality barlow lens can bring the magnification up high enough to see detail on planetary surfaces and close-up views of lunar craters. One problem it presents to a child, however, is that due to it using a collapsible tube, it may need a collimation nearly every time it's used, as the mirrors will be in slightly different alignment. This procedure is not very difficult for an adult after one or two tries, but I wouldn't make a child do it. Without collimating, the telescope won't deliver truly sharp views, but it's entirely possible that you won't even notice the difference unless the telescope gets banged.
We usually recommend Zhumell Z130 to adults when compared with Heritage 130P, however, at 21 lbs, it is not within the constraints set by the weight requirement for children, being almost as heavy as the StarBlast 6!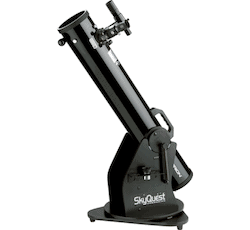 Probably the best out of all of these telescopes for children, the Orion SkyQuest XT4.5 is a miniature version of a full-scale dobsonian, suitable for children to sit with or stand and look. An adult would prefer to enhance the height of the telescope using a stool or a sturdy crate or box.
The fully assembled telescope is a fairly heavy 22lbs, but if the optical tube and the dobsonian mount are taken out separately, a child can manage–the optical tube has a handle to facilitate this. Its main advantage over the StarBlast 4.5 and the Zhumell Z130 is its longer focal length, which allows the same eyepiece focal lengths to deliver a higher magnification, making high power planetary and lunar views much more attainable. Its eyepieces are a higher quality 4-element eyepiece compared to the StarBlast and Z130's 3-element eyepieces. The base requires adult assembly at first, but a child can take the telescope on and off the base and adjust the tension springs on their own.
If you prefer an even more expensive one,
$300+ will give you a full-size 5 inch or 6-inch dobsonian. While these are very effective telescopes, and easy to use even for children, at this size they tend to be unwieldy and too heavy for children to carry on their own.
$350 will get you an Orion StarBlast 6" tabletop dobsonian telescope. This is a tabletop dobsonian, but it weighs 23 pounds, so while it may be an excellent beginner telescope, it isn't such a good choice for a child.
Over 10 Years Old
Today's average 10-year-old has mastered the use of a smartphone, video games, and likely a computer or tablet. While manual scopes are always appropriate and recommended for adults, a responsible pre-teen may be able to operate a computer-assisted PushTo or GoTo telescope system with some initial help from an adult to learn the system. A lot depends on the child. In some cases, they may pick it up faster than you. If these sound like your kids' case, we recommend you read our Best Computerized Telescopes Guide and pick on based on your budget. 
If not, we have the 'Best Telescope Guide', which consists of mostly manual telescope recommendations. Those would be far more superior in providing quality views when compared to a similar priced GoTo/Pushto computer-controlled telescopes and we will always recommend them in normal circumstances. GoTos are typically recommended only for a budget of $1000 and above. 
Preparing your child to use a telescope
If you're going to get your kid a telescope, they must know a few important pieces of safety information. First, they must never, ever, EVER look at the Sun with their telescope. It will blind them, or at least cause permanent and severe damage. Solar filters are available for telescopes, but I would only ever allow that to be used with a serious adult supervision. Solar filters must cover the entire aperture of the telescope. Never ever use an eyepiece solar filter or a moon filter to observe the Sun.
They should also understand what objects look like in a telescope. They don't look anything like the NASA pictures! Most things are grey and black. Only some stars and the planets show color in a telescope. Planets tend to be very small dots in a telescope, but you can usually see the rings of Saturn, the moons and cloud bands of Jupiter, the phases of Venus, and subtle detail on the surface of Mars.
If your kid is very young, start them out looking at the Moon. It's bright enough that you'll be able to see the Moon projected onto their face. If that projected image isn't right on their eyeball, then they can't actually see the Moon, and they're lying if they tell you otherwise. Make sure their eye is centered in the eyepiece.