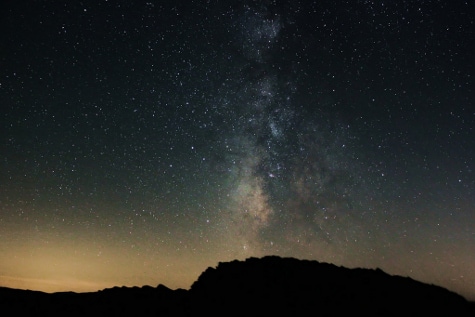 By Ralph O. Clements
When I was invited to write about this subject for Astronomysource.com, I must say I was flattered and a bit flabbergasted too, as I do not consider myself an expert on the subject, nor a writer by any means, but just a guy who likes to go out at night and take pictures of the sky. I stumbled into this hobby when my wife brought home an old 4" Meade reflector telescope with a manual equatorial mount from a yard sale that she paid $60 for.
I took that thing out in the country and set it up (completely wrong, I now understand) and as darkness approached, held my point-and-shoot camera up to the eyepiece and took a picture of Venus. Well, now that was very interesting…it was certainly not a very good photo and I have learned it is hard to get a good one of Venus, but I could tell it was not a star, it was not round but had a semi-circular shape. Wow! I took a picture of another planet! That got the gears turning in my head and I just had to do more….I mean who would think I could take a picture of another planet, with a point-n-shoot camera and an old yard sale telescope?
"Camera Only" Images
I do take images with newer telescopes and a decent equatorial mount which I have acquired since. Imaging galaxies and nebulae is an ongoing goal and interest, but I have learned that it is time consuming, tedious and has a fairly steep learning curve. My view of the sky at home is very limited. So for the time it takes to drive out to the country and get all that gear set up and working, I am limited to weekends and then only weekends when the sky is clear. Since clarity of skies does not always happen on Friday or Saturday night, I often image without the telescopes at all. All the tips and advice offered here is just what I have learned and I expect others may have better ways of doing things.
_________________________________________________________________
_________________________________________________________________
Equipment
My research indicated that Canon cameras are preferred for astrophotography and the T1i is what I use for everything. I also have an older Nikon DLSR with two lenses, a 180mm fixed focal length and a 75-300mm zoom, for which I bought a Canon adaptor, but the 18-55mm "kit lens" that came with the Canon is what I use most often.
If you read up on astronomy and astrophotography equipment you will note it is often said that the mount is every bit as important as the telescope. My camera tripod is my mount and I fully agree that a sturdy tripod is a must. I am fortunate to use a tall Berlebach tripod with hardwood legs. The cheap aluminum department store tripods are not stable enough.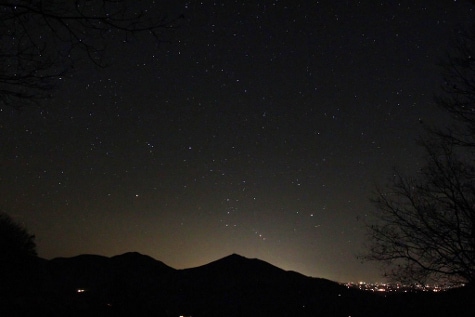 Widefield & Star Trails
Camera only astrophotos with a static tripod fall into these three general categories:
Widefield – Single Shot
These include what would be considered "scenic" or "landscapes" in daytime photography, that is, including some portion of the Earth, as well as constellations and shot of the Moon (See Figure 1). I try to shoot as long as possible without having oblong or streaked stars. A high ISO setting helps with this and I often use 3200 ISO unless it is twilight or too much man made light is around. Figure 1, Orion and the Peaks of Otter, is a 10 second exposure and the stars are a bit oblong but not too bad.
Widefield – Stacked Images
Images that are composed of multiple single exposures, stacked and aligned in the computer to reveal much more of the faint light features than what is visible to the naked eye. Sagittarius (Figure 2) was taken as series of short, 6 second shots and stacked in the computer using Deep Sky Stacker. The exposure time for shot like this can vary depending on the target, its location in the sky and ambient light conditions. I find that targets nearer the poles may allow a little longer exposure than those on or near the celestial equator, which appear to move more due to their location.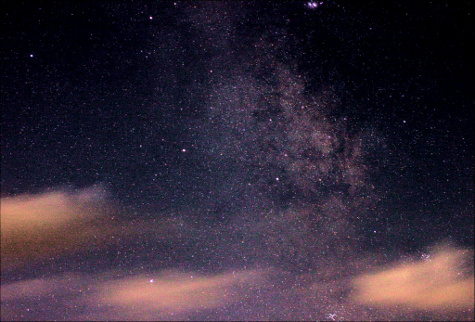 Star Trails Shots
Long Exposures or combined multiple exposures that show the apparent rotation of the stars above the Earth. Of course, the stars just appear to rotate because we are riding on the Earth which is really doing the rotating (Figure 3).
Taking star trails images is fun, easy and I like the look of them. Although a star trails image of say 40 minutes can be done on the "bulb" setting with a single exposure, this requires a remote timer and more importantly, a very, very dark site as the least ambient light will over expose the shot during that time. So I just take a series of 30 second shots and combine them using "Startrails" software, another useful and free program. This software is definitely easy to use and produces good results, although I do not notice much improvement when I use dark frames with it. For noise reduction I use "Noiseware Community Edition" in the final images instead. I recently became aware of another free software to do this, "Starstax", and will be trying it soon as it offers more features.
On these star trails shots, sometimes it is good to have some moonlight on the subject and I will go out under a quarter to half moon and shoot them. I find a full moon makes it too much like daylight for my taste and if I lower the ISO under a full moon the stars don't show up much. So depending on the amount of moonlight, artificial light and desire ground detail, I take these star trails shots at ISO setting of 800, 1600 or 3200. Generally, I try to get 40 to 60 minutes total exposure. Less than that and the trails are too short, more than that and chances are airplane will mess it up.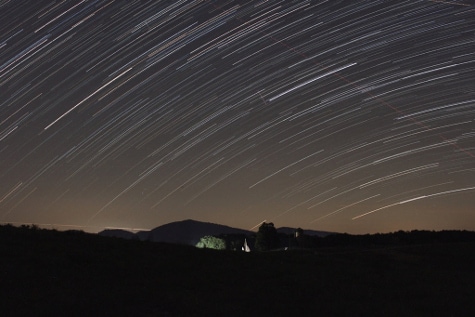 Foreground and Framing
I try to pick a good site with some interesting foreground , although "fore-ground" in this case doesn't mean close to the camera, rather, it means the part of the Earth that is shown.  I try to frame the shots so that the sky covers roughly ¾ of the frame, since the sky is the real subject and the foreground is really just a reference or point of interest.
Focusing
To get crisp focus on the stars and the ground, anything in the image needs to be as far away as your camera's "infinity" focus distance, which varies with the lens. So I try to take scenes that I would focus to infinity on if I were shooting them in daylight, such as the farm you see in Figure 3.  For all my images I use the camera's "live view ". This feature lets me zoom in on a bright star, or the moon and focus. If your target is too dim, aim at a brighter one or an artificial light a long way off and focus on it and re-aim at your target. Make sure your camera is not set to "auto-focus", use "manual". The Nikon I was using did not have "live view" but I used the same method, only I looked through the view finder at a bright star or light. Sometimes a few test shots were needed to get it right.
Getting Started
As for general advice for other beginners, I offer the following
Read your camera's instructions, particularly the section on manual control.
Learn to work your camera's controls in the dark, the corollary of which is….
Don't be afraid to experiment. I use the trial and error method, with lots of trial and plenty of errors. That's okay though as I am having fun and try to learn from my mistakes, and I don't have to buy film for a digital camera, so I don't mind deleting the ones that didn't come out.
….just do it! Have fun with it.